It takes 3 hour to root hair on the doll if you use this rooting tool.

It will be use for Barbie, BL, Gene, Tlyer, Sydney, Alex...
This rooting tool is in medium size(1mm).
It is really a convenience hair rooting tool.
* Included: 1 rooting hair tool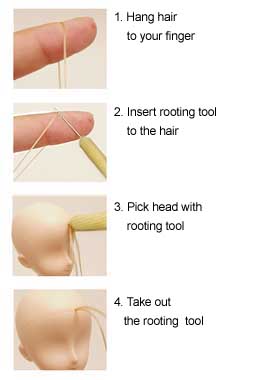 * Rooting tool is a supplies.
It may be broken or bended when you root hair on the doll head.
So we suggest you to buy 2~3 items together at one time.

* When you insert rooting hair to the doll head, we suggest you pump many times to make hair tangled enough inside the head.
* It is a little thick for barbie and jenny doll.
So if you want to root hiar for barbie or jenny doll, we suggest you select another thin rooting hair(0.64mm or 0.8mm).